The Office
We're open and operating on reduced hours for the time being, from 9.00 a.m. to 11a.m. then 4p.m. till 7 p.m. We are available out of hours by mobile or buzzer.
Our friendly staff will supply you with tourist maps, activity brochures, and essential local knowledge—the best beach to catch sunset, sweet spots to jump rocks and docks into the sea, scenic bike trails through Tomaree National Park, where to spot koalas, insider information on fantastic tours—directions, departure times, concession bookings, and much more. Always ask a local… ask us. We also have items to borrow including body boards, DVDs, and board games, free of charge; to hire towels, book tours, and free wifi
We also operate as your booking agent for all local tours, attractions, and future hostel stays at other YHAs. We're happy to assist you with onward travel plans and answer any questions about bookings, transportation, and directions.
Free wireless Internet
Lounge on our garden day bed or lounge by The Lagoon while surfing the net. Or hang in "The Shed" where Wifi is also available for free throughout all of our property and in rooms for our guests.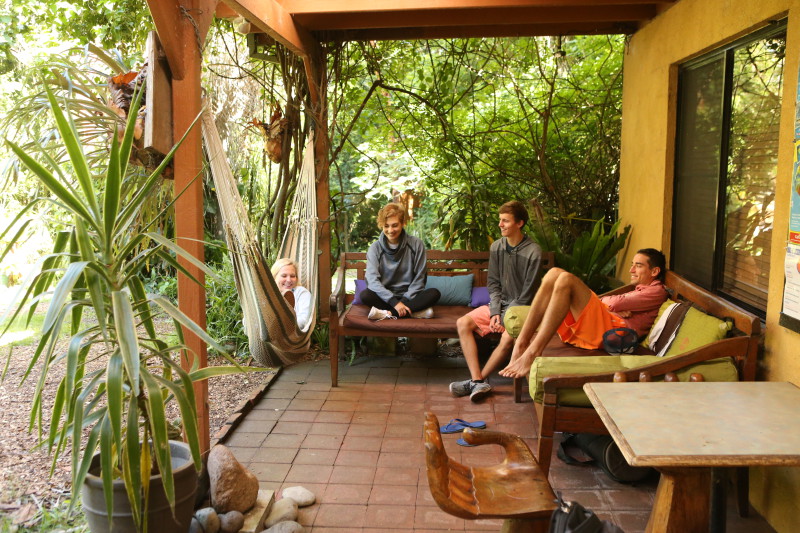 ---
---
The Lagoon
Take a dip in our lagoon-style 11 m saltwater pool. Swim in the salt and bask in the sun. Kick back in one of the lounge chairs on our sun-drenched deck and unwind.
The Bush Kitchen
It's like eating in the middle of the Rainforest but not getting wet when it rains…
Eat out… side. Cook, feast, drink, and meet other travellers in our spacious, open-air eatery. It is a fully equipped bush kitchen, with a large BBQ, gas cooker, microwave, toaster, sandwich maker, espresso makers, and more. We also provide necessary cooking equipment and free tea, coffee, sugar, flour, oil and salt. Surrounded by rainforest and native wildlife, the Bush Kitchen seems surreal. With a large wooden deck and community-style seating, the atmosphere is a rare blend of tranquillity and comradery. And now we have added a lovely little chiminea fire pot to snuggle around on the cold winter nights..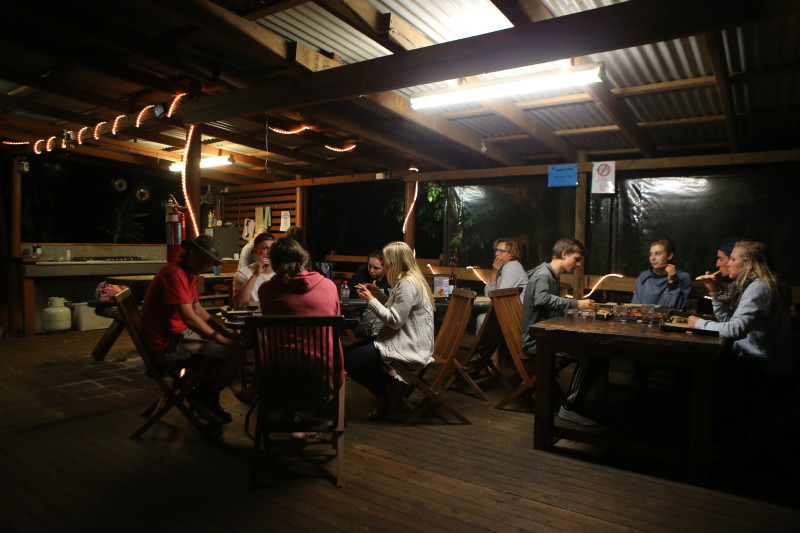 ---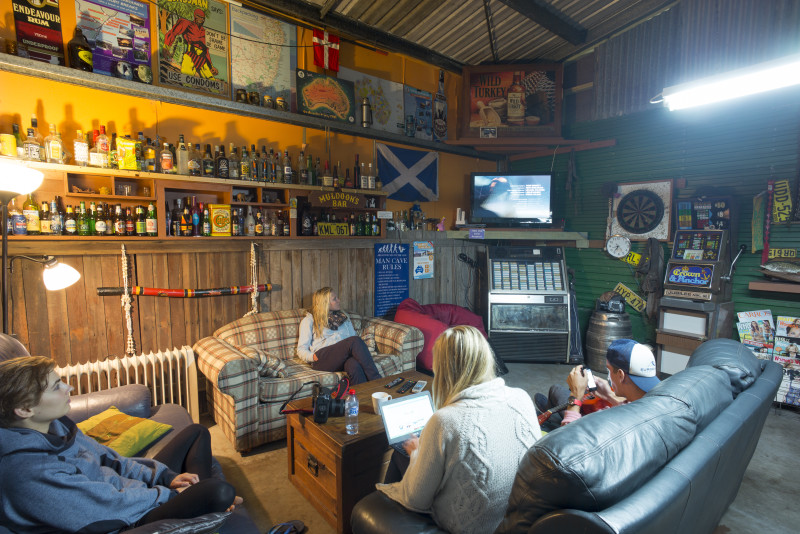 The Shed
Has to be seen to be believed. - Lonely Planet
A proper Aussie "Shed" packed with historical, unnecessary, and first-class stuff some may say Junk!!. There's a free pool table, a dart board, TV, DVD player, board games, free book exchange, a travel library,and CD player. Excellent spot to relax, read, or join in traveller revelry. Maybe you will be here when we host our Movie and popcorn night.
---
---
Campfire
Get hot and hypnotized under the stars by our "Bush TV". Huddle around our pit-style fire, share stories with fellow travellers, and toast marshmallows.
Washing
We wash your clothes for only $5 per load and you hang them out on the line. It's easy, breezy, and eco-friendly.